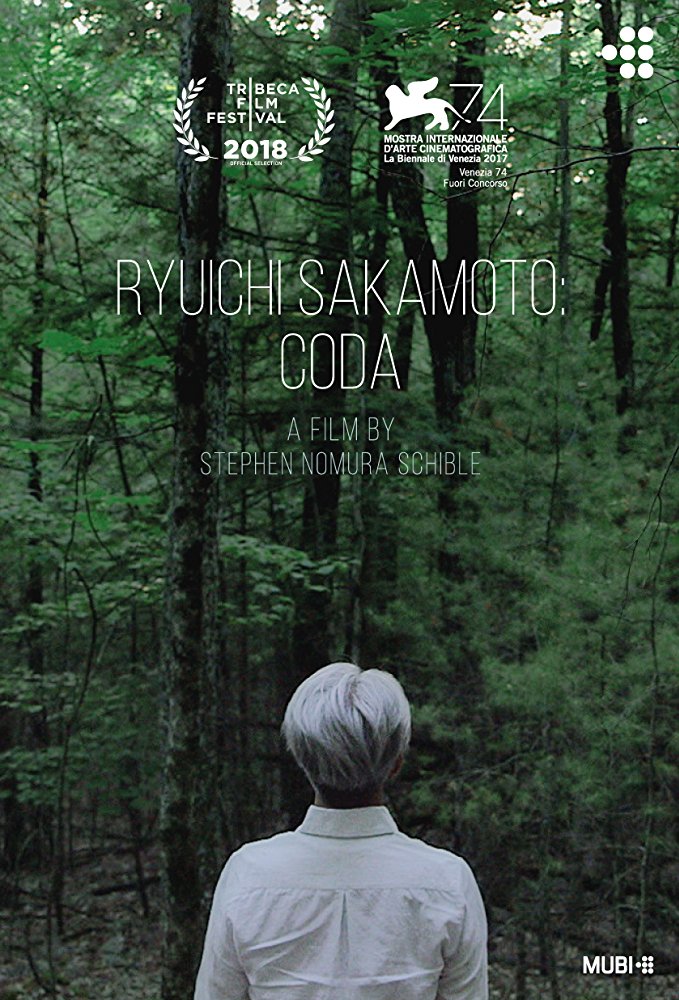 Recently, Cynthia and I had the pleasure of watching a film called Coda which showcases more recent musical endeavours of Ryuichi Sakamoto and the very personal impact of dealing with the news of cancer. This post is probably full of spoilers in the traditional sense and less of a film review, however don't let that deter you. His story is very real and for me, the film was more about the experience and how it changes the way you see the world. Onwards!
Thousand Knives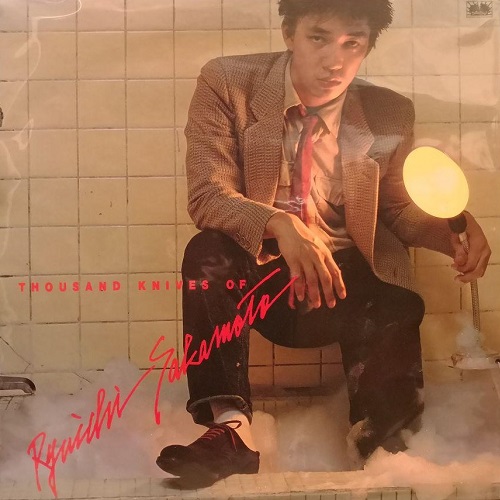 Presenting The Fusion Delusion for 7 years led me to discover many different types of music and Thousand Knives was no exception. In fact, it was probably the guitar solo on the title track that really hooked me initially, courtesy of Kazumi Watanabe and his use of the Alembic guitar. Great album for a debut release in 1978, with links to the National Album of the Chinese Cultural Revolution as a bonus (yes, look it up!).
The album art, as you can see from above, is very slick. An Armani suited (and very young!) Ryuichi Sakamoto sits in a bathtub, full of bubbles, with a dangerously placed electric lamp. The other track that caught my attention is "Plastic Bamboo" on the B-side. Played that a few times on the radio!
Yellow Magic Orchestra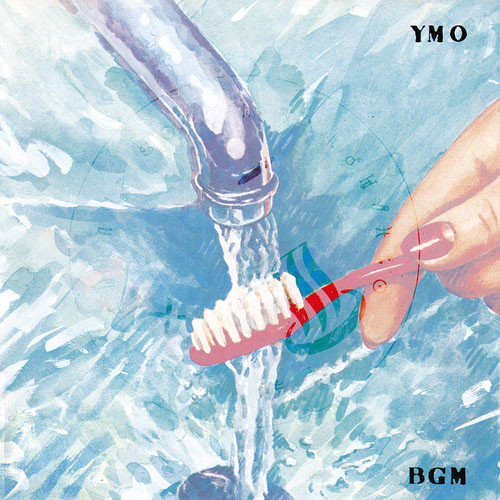 Moving beyond the solo work of Ryuichi Sakamoto, you'll find that YMO's BGM from 1981 is on high rotation at my place at the moment. The great thing is that the YMO trio do an excellent job at Thousand Knives. Talk about exploring to the limits of what's creatively possible with synthesizers.
Playing the piano (sometimes)
I'm a bit of a collector of piano sheet music and the music written by Ryuichi Sakamoto is some of the most inspiring I've ever had the pleasure of playing. One particular song - Merry Christmas, Mr Lawrence - from the motion picture (staring David Bowie, of course) - is epically long but almost had me in tears when I heard it play in Coda. Hearing that familiar song fill every inch of the cinema was absolutely breathtaking - and it was so early in the movie, too!
Whilst in Korea on holiday, we managed to pick up a collection of Sakamoto songs. I mean, sure I can't read Korean so most of the books weren't much use to me, but the sheet music section was filled with excellent titles - including the Ryuichi Sakamoto collection. Such is the value of the international language of sheet music.
How about this one?
Cynthia pulls out the perfect sheet music book on her first instinct. I didn't even know I had mentioned Sakamoto to her enough to spot his name in a rack of books. Since then, both Cynthia and me have been taking turns at learning songs with special focus on Merry Christmas, Mr Lawrence.
Which brings me along to today's feature… Coda.
Coda
I actually wasn't sure if Sakamoto was going to make it and complete the film. I heard of his medical diagnosis and heard that he was mostly taking a break from composing and public appearances.
Coda was directed by Stephen Nomura Schible and produced by Stephen Nomura Schible, Eric Nyari and Yoshiko Hashimoto.
What others say
By the end, you will feel as if you not only understand Ryuichi Sakamoto intellectually, but also share a sense of the excitement he feels when discovering just the right match of sounds.
Ben Kenigsberg, The NYTimes
Isn't a life story or a deep-dive character study. Rather it is a heartfelt mediation on the creative process, with elegantly presented ideas on nature, music, mortality and things out of tune.
Brad Wheeler, Globe and Mail
I'd agree with both Ben and Brad on this one.
The film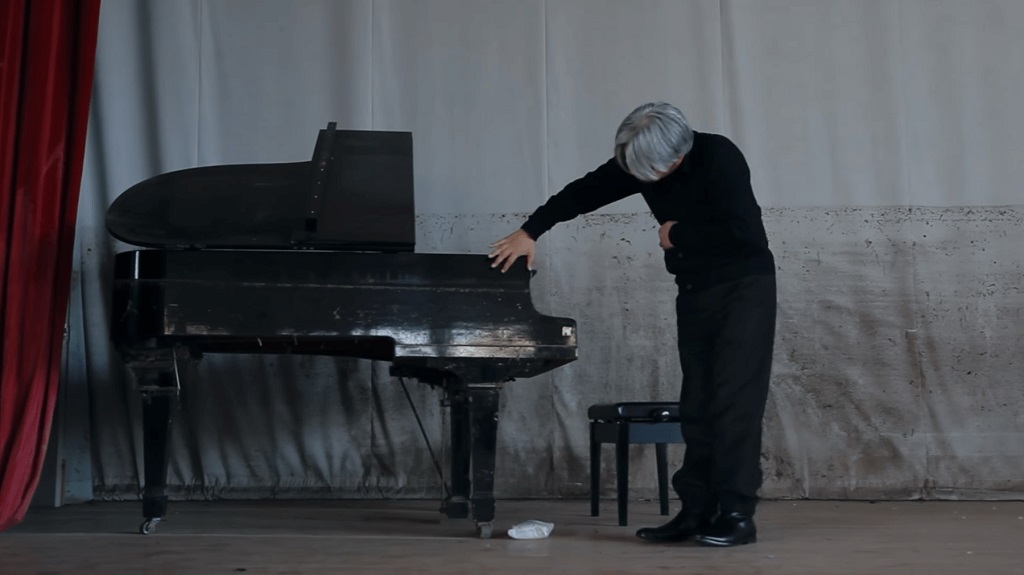 Opening with a piano that had survived the disastrous tsunami that destroyed the reactor at Fukushima, we are greeted with what sounds pretty much in tune: a real battler. I'm sure with a bit of a clean up the piano would provide years of service, but why not play it in it's exact state, post-calamity.
There are several performances of his masterpieces in the movie and I have to admit, music gets me everytime. It's the one thing that can easily overcome emotional restraints. Others in the audience were reported to be swooning at the sheer sound of classic songs like Merry Christmas, Mr Lawrence and Tong Poo.
The Studio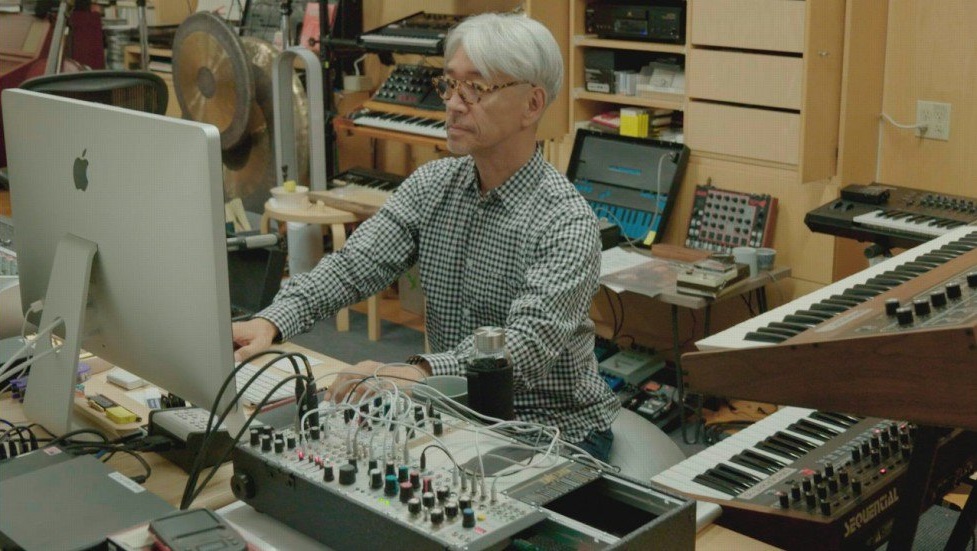 Just wow. What a nice collection! But what's most enthralling is not the sheer array of keyboards and synths but actually Sakamoto's almost uncanny obsession to record sound: even the use of a violin bow on the edge of a cymbal cannot escape the attention of one third of the YMO trio.
Sakamoto spends a large amount of time in his studio and playing (what I can only assume) his piano in a multi-story residence. The use of timber in the architecture of the building is liberal. The camera man sneaks up and captures a master at work: Sakamoto quickly sketches down some notes when he sits at the piano, notices the camera man, and chuckles. For a man who is so desperately sick, he is still working. And creating magical sounds.
Mortality
The showcasing of cancer treatment is very real. This is made further impactful through the difficulty of swallowing a large number of tablets despite having less-than-ideal levels of swallowing power. There is a real connection between the cancer diagnosis, the treatment and…
Protests against nuclear technology
These scenes were somewhat distressing, partially because of the volume in the cinema and the cries of the protests, but also, to paint a small picture for you, of a scene of very enraged and passionate Japanese people calling out the government to end the reliance on nuclear technology. Many loud hailers were in use. The cinema fills with horror as the protesters convey their message with gusto. This scene is somewhat confronting, compared to how passive conversation can be in Japan.
Water, Wind and Footsteps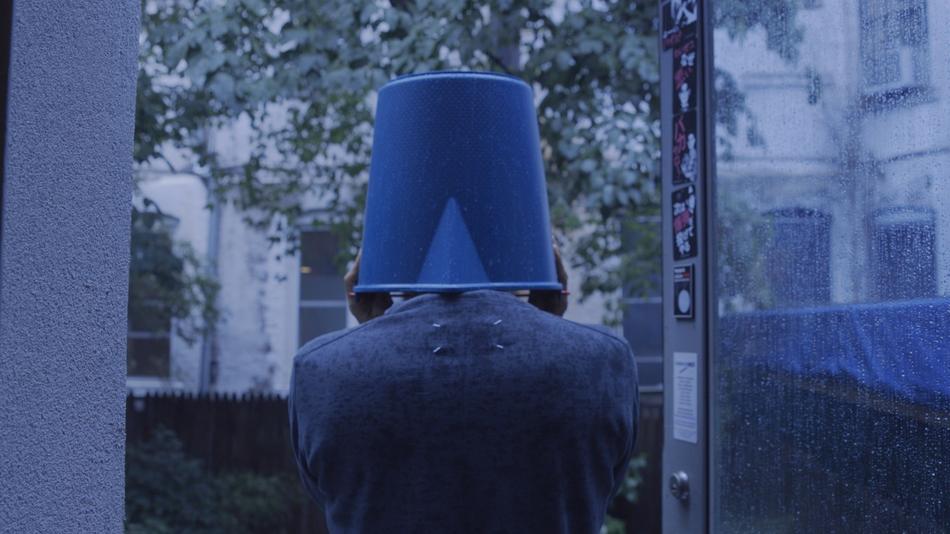 This scene made me practically laugh out loud. I turned to Cynthia after watching the movie and she remarked how much Sakamoto's strategy of first sampling first-hand what a bucket sounds like in the rain by sticking his head in it, followed by using a microphone, reminded her of me. I had the same feeling!
I must try this bucket-in-the-rain recording thing.
But on a more serious note, it's such a nice refreshing change to get an insight into the mind of a true creative genius: finding inspiration at every turn in nature, whether it be the sound of water, wind in the trees or simple footsteps in a heavily mulched rainforest floor.
The Balance
For all the amazing footage and sounds, the movie is somewhat presented in a disjointed fashion. It's not like a classic Tarantino, but there are a lot of threads discussed in the movie which are used in a non-linear fashion. It's pleasing to see lots of old footage including the earlier days in the 80's, but the film definitely needs more cohesion.
The threads are unfortunately not completely concluded by the end of the film either, which leaves the audience longing for more. There will be no Coda II (this is my assumption) due to the challenges of producing this film, but the result of the movie is more about the experience how it changes your world view and less about telling a single coherent story.
Satisfied by the eclectic collection of clips and matters discussed, the film ends abruptly.
So now what?
Well, I've really been inspired to record anything and everything. Spend every minute of time that you can. Don't waste a drop.
I already spent my honeymoon travelling around Japan recording sounds of trains, trucks, level crossings and pond insects. One day these may find their way into an album, if I'm lucky.
Here's an example, an eerie drone sample can be taken by running the microphone within millimetres of the underside of a crash cymbal. Cymbal courtesy of Cynthia, of course.
Warning: contains strong droning sounds which may disturb
Mmmm fat. When I played this for Cynthia, it reminded her of some of the louder scenes in Coda which were borderline ear piercing. If you've seen 2001: A Space Odyssey, you'll know what I mean.
Next up, I picked some peas from the backyard which had dried up, but they had this nice rattle sound to them. Not such good results of these, so I won't post it here.
But I'll continue hunting around the house for new sounds.
I'd love to watch the film again, but alas there are no official online streaming channels at time of writing. Happy to be informed otherwise. Perhaps I should just be more patient as it makes the rounds worldwide at film festivals. You should check your local for screenings.
Some Links
---
Like this post? Subscribe to my RSS Feed
or
Buy me a coffee
Comments
(0)