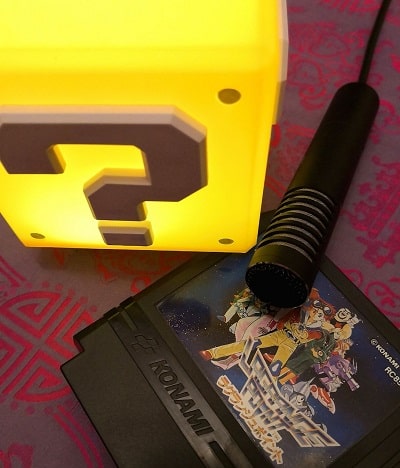 The year was 2016, I had been presenting Fusion Delusion on Eastside Radio for 5 years and it was time to try something new. I lodged an "Application for New Programme" and wanted to take my volunteer community radio hosting gig in a different direction and maybe playing out so many fusion jazz tracks had got to my head.
So here's a bit of the brief I submitted to Eastside Radio at the time. Sadly, it wasn't successful in getting up: the programming committee didn't warm to the idea as much as I had hoped. I wasn't alone, however, as a fellow volunteer helped me put together an air check and write up the proposal.
How could you go past the orchestral covers (such as The Legend of Zelda) that have been amazing shows at the Sydney Opera House? So it's good to see there's definitely an interest in this area out in the community beyond what I may think!
What inspired me to write this post was a co-worker shared a show on ABC Classic called Game Show. So you should definitely check that out. But anyway, here's my proposal, lightly edited for this blog format, with a little bit of commentary from me.
Video Game Music Radio Program Proposal
Proposed title of program: HIGH SCORES
Come on, that's pretty good, right? High Scores. Scores. Music Scores. OK, I know, you got it the first time.
Brief description of proposal
A weekly radio show that celebrates the music from video games over the past 30+ years including the influence of game music, changes in technology, reviews and interesting facts.
Showcases local Sydney talent (such as The Consouls) as well as talent from the past and present from all around the world.
Unique in the fact that it focuses on Video Game Music, however fits in nicely with Eastside's broad music coverage and showcases Video Game Music as an art-form in a fun and positive way.
Hosts
Johan, a fellow Eastside presenter and myself. Both keen gamers, of course!
What the program would cover
The show is predominantly a music-based show. The following types of music would be featured every week:
Original Sound Tracks (OST) (music written for games)
Fan remixes (eg OCREMIX has thousands of songs)
Samples (eg Lazy Jones in Kernkraft 400, Timbaland copyright case)
Music written for other purposes but subsequently used in games - the GTA series is a prime example
Bands like The Consouls, Anamanaguchi, Mitch Murder, Betamaxx (loads of Swedish bands for some reason!)
Possible program themes
Each show would have a special theme to tie together everything that is presented and give the show meaning. Each theme could be used in multiple ways, with various 'specials' depending on the theme.
Music Genre (ie games that use 'regular' music genres)

Jazz (Grim Fandango, Blade Runner)
Classical genre (eg Castlevania, Lemmings, Tetris)
Metal (eg Doom)

Movies

Games based on movies (aka the "Hollywood" show)
Movies based on games (eg Mario Bros, Doom)

Game Genre or type of game

Role Playing Games (eg Squaresoft is famous for RPGs)
Indie games (such as Terraria, Hotline Miami, etc.)
Driving/racing simulation

Game series (eg Zelda, Grand Theft Auto)
Game publisher (eg Epic Megagames made a lot of games including: Jill of the Jungle, Jazz Jackrabbit, Unreal, UT, etc.)
Decades or time periods (eg 80's, 90's)
Era of console gaming: 8bit, 16bit, 32bit, 64bit, etc.
Technology (MIDI, CD redbook audio, mod trackers, chiptunes, etc.)
Platforms (eg PC, consoles, arcade, handheld, etc.)

Could also be brand, eg Nintendo, Sega, Sony, Microsoft, etc.

Countries - focus on games from one country for an episode

Japanese games – RPGs are really big in Japan
American games
European games
Australian games – a local focus would be interesting

Music inspired by games
Circuit bending

Modifying games to create new sounds and new songs

Covers: Orchestras or bands that play game music re-arranged or with differing instruments from the original
Songs that have a binding element or technical limitation
Such as the "famichord" for music for the NES - https://chipflip.wordpress.com/2011/05/11/famichord-and-other-elements-of-chipmusic/
Use of song – ie where the song is used in the game

Intro's, menu's, credits, winning theme, losing theme, etc.

Music video games

eg music changes based on player input, music is an integral part of the game (eg dancing, rhythmic games, etc) – for example Rez
Regular segments
We like the idea of doing a few regular segments with catchy intro's. Some ideas are:
WhoSampled (analysis of who was inspired by game music to sample it in a new song)
Retro Game of the Week (review of game ie: graphics, gameplay, sound, longevity, uniqueness) - briefly review the game, then play a song from the game
Game related gigs (eg at Opera House, touring groups that play game music), events (Supanova, E3, PAX)
Video game music production (brief analysis, how-to) (eg Famichords, Mod Trackers, Circuit Bending)
Guess that classic game theme song
News, perhaps with a focus on retro-gaming news (new releases of old games, sequels or remakes, etc.)
Intro theme ideas
The Intro Theme would be a mashup of various iconic tracks such as Commando, Super Mario Bros, etc. Things that people recognise and can relate to, particularly if it has a nostalgic feel about it.
Samples of possible music
The focus of the music style would be all types of music associated with Video Games. It's intended that the music/talk mix would be 80% music, 20% talk.
YouTube links are provided below for your convenience but these would never be used on the air due to the poor quality, potential licensing issues and reliability of the stream during live broadcast!
Live interviews
Yes please! Would be great to get local bands who cover video game music on the show for an interview or even local game music producers.
Would've been nice to do more research here into other local Sydney producers as I'm sure they're out there!
Intended audience
The program appeals to an audience who may not already tune into Eastside, thus looking to increase reach. It would resonate with people young and old who have grown up with video games.
The program also aims to broaden the appeal of video game music to the existing Eastside Radio audience.
What's the community need for this program?
Showcasing music of video games as art is very much missing on the air. The community would benefit from a broader appreciation of video game music.
There are also few video game shows on radio despite the video game industry having an annual size of approx. $81.5 billion USD (2014) which has climbed to $134.9 billion USD in 2019. For comparison, the global film industry is worth $136 billion USD (2018) and I'm sure nobody would refuse a film-based music radio show!
In hindsight, I realise this isn't a great argument for why the community needs this show but I figured going for a 'reach' play and expanding the Eastside audience was too good to pass up.
So what happened?
Well, nothing really. It didn't get up and a couple of years later I finished up playing fusion jazz on community radio, which you can read about here: Hanging up the Fusion Delusion mic one last time
I'm posting this in the hope that someone finds it inspiring and kicks off their own amazing radio show. And when I say radio show, of course I mean podcast. Do it! I'll subscribe.
I know you'll tell me that this already exists (it's hardly a unique idea and I'm definitely not claiming to be the first). If you're not keen on rolling your own, here's some video game music podcasts that you should check out instead:
---
Like this post? Subscribe to my RSS Feed
or
Buy me a coffee
Comments
(0)