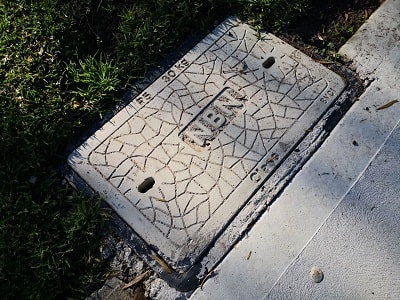 Although I've had a bit of a rocky start to my own NBN experience at home (for example it took 2 NBN tech visits to get it working and FTTC is practically impossible to diagnose), I'm sure my experience is far from the worst out there. In fact, I have the NBN to owe for the fact that the council would've made it nigh-on-impossible for me to get stormwater out of my house if the NBN concrete team wasn't out the front at exactly the right moment so that my builder didn't have to lift the footpath himself… but that's a longer story.
What I'd like to describe today is a trail of events which have lead to a finally successful NBN activiation for a small business near the Sydney central business district. It was a long and arduous journey for all involved. But first…
Some Background:
Small business located in a multi-tenant building in a suburb adjacent to the central business district.
Current technology: ADSL2+.
Attainable speed: 6Mbit down, 1Mbit up.
Cable length: mimimum 1.8km.
Business hours: 8am to 6pm, 6 days a week.
Internet and phone: critical to business operations.
Anticipated NBN technology: Fibre to the Basement (then VDSL2 to the premises, delivered over existing copper phone line).
The time I've had to spend on getting the NBN going for this small business has been extremely limited. It's worthy of note that It's not my business and I just help here and there when I can. The business keeps ticking along of course and every employee is alarmingly busy on the things they need to do just to do the basics. Typically, the NBN gets pushed down the prioritisation list and other things get looked at first. That's business.
Also keep in mind I'm not a network engineer or consultant, so I'm definitely not an expert in setting up new NBN connections and I'm certainly not going to go messing around with phone cables to try and get it to work.
Here's a blow-by-blow account over the past 18 months. I've tried to keep things as factual as possible, after all, the business only really wants a working internet connection at any reasonable cost. That's not too much to ask for, right?
19 Feb 2018
Email from RSP
As discussed the NBN is now in your area and we will need to transfer your phone and internet services over to the NBN. The NBN services will work out cheaper than what you are currently paying. Please see below/attached for plan details.
Rock on! Finally some real internet. It's been a long time coming, that's for sure.
7 Mar 2018
Email from RSP
Your nbn™ data service is now active.

Let's go through your checklist to ensure you have everything to get connected!

nbn equipment installed

Equipment shipped

Activation

You can now plug in your gateway! This is a simple guide to help you set-up your Gateway onto the nbn™. Follow the simple steps to get connected.
9 Mar 2018
Email from RSP
We noticed that you don't have any usage for your NBN internet.

May you please connect your modem so we can configure the voice ports.

Should you require further assistance or have any further questions, please feel free to call our Customer Service Team or chat with our friendly staff on Live Chat.
Some time passes
We log a call with the RSP, who in turn logs a call with NBN. A date is set for an NBN tech visit and we all cross our fingers.
On the appointment day, the NBN tech calls me from his van and claims that the NBN is not available in the building where the business is located, quoting a location close to a bridge.
I find this a little odd, because the address is not near a bridge at all. I try to convince him to actually attend the site, to see that the NBN is indeed available and has been installed in the basement of the building. He refuses to attend on site based on no NBN being available and promptly moves on to his next job.
We later learn the website for the business has a small Google map with a 'pin' that was pointing to the locaton the NBN tech referred to, which was corrected. So perhaps he just looked up the website of the business in order to attend each job that was scheduled that day?
18 Jun 2018
Based on pressure from the RSP that the NBN is most definitely ready to be used, I try to locate the famed 'NBN' connection in the premises. No socket or port works anywhere on the premises.
The ADSL is still working, thankfully, however it's terribly time consuming and disrupting to go around setting up new routers and then rolling back to the old system again when the new connection shows no chance of working.
3 Sep 2018
On phone with RSP, trying to locate NBN service. Cannot be found. Tech support is helpful and patient, but they still aren't able to resolve the issue.
10 Sep 2018
Email from RSP
In regards to the NBN, there is no date set on delivery at your location as yet.
11 Sep 2018
The RSP decides a site visit is a good idea. Actually on site! This was quite impressive in this day and age. But the rep who came out was the Key Accounts & Support Manager, so cannot fix any 'technical' issues and was more to alleviate some of the invoicing issues which had begun since the 'activation' of the NBN back in March 2018.
12 Sep 2018
RSP calls to try and set up the NBN connection during business hours, but this would require an outage to existing ADSL and phone services, which would cause great disruption to the business.
13 Sep 2018
I spoke with the RSP on the previous night and they advised that an NBN technician attended the basement of the building and tested the line with NBN enabled inside the MDF. This is good progress from a different NBN tech claiming the site had no NBN. A connection was found on line C10, which has now been physically tagged for ease of identification. I even have photographic proof of this, although the tags are in a secured cabinet and some of them are a little confusing (such as multiple terms for essentially the same Unit / Shop / etc).
13 Sep 2018
Email from RSP
Unfortunately with NBN, they can deliver to a certain point and if infrastructure is not present to reach the customers premise, then they will advise you to get an electrician to patch the line. We have seen this on numerous occasions.
I found this confusing, since the 'infrastructure' in question is a phone line - 2 copper wires - which the ADSL is already being delivered over. Surely that same 'infrastructure' can be used for VDSL2 from the miniature DSLAM in the basement up to the business premises. I'd be happy if they unplugged the ADSL completely and the new NBN connection just worked.
16 Oct 2018
SMS from RSP
We found on our system that your NBN is not yet connected using the modem and there's no usage. Please connect the modem for us to proceed with activating the phone numbers as NBN compatible services. Thanks.
15 Jan 2019
Email from RSP
Is this still being looked at or should I close off on my end?
22 Feb 2019
Emailed RSP
Asked for someone to come out and set up the NBN, as we've tried and can't get it to work. Working over the phone with tech support can only do so much.
22 Feb 2019
Email from RSP
Will follow up NBN issue
8 Mar 2019
Call from RSP call centre
Informed us that the transfer to NBN will be finalised on 5th of April, 2019. We will be without our phones for roughly 30 mins - 1 hour. Internet will not be affected apparently.
This seems a little hard to believe… so we're supposed to run the new provided VOIP/ATA boxes with the old ADSL line or… what exactly?
28 Mar 2019
With the threat of the ADSL/telephone cut off date looming, I spent another 2 hours with tech support trying to get the NBN to work.
10 Apr 2019
Email from RSP
As we've previously communicated with you, the nbn™ access network will replace the copper network currently at your business.

The existing copper network will start to be disconnected in your area from 10 May 2019. After this date, you may be disconnected from your current phone and broadband services if you don't arrange your connection to the nbn.

Connecting to the nbn doesn't happen automatically. You'll need to arrange your switch now to avoid being disconnected.
(some of you may notice a change of branding when NBN became nbn)
The question about no outage sounds great, especially considering that we've already ordered the NBN about 12 months ago.
Things heat up so we raise another service request to make sure we meet the disconnection date. This service request results in another fault logged with NBN.
12 Apr 2019
For the past 2 weeks, I receive an "URGENT" SMS from NBN advising of an appointment for one of their techs to visit to rectify the problem but they have been unable to turn up and the appointment is constantly moved to the next day.
Rescheduled appointments were as follows:
29/3/2019 1pm to 5pm
2/4/2019 8am to 12noon
3/4/2019 8am to 12noon
4/4/2019 8am to 12noon
8/4/2019 1pm to 5pm
10/4/2019 8am to 12noon
The "URGENCY" of these SMS starts to wear a little thin.
I also received lots of phone calls from the RSP about shifted appointment dates. Most of the excuses refer to 'bad weather' causing the delay in the NBN tech visiting the site.
In the end, though, the NBN tech never turned up.
26 Apr 2019
RSP responds with an apology for the poor handling of this case, which I think is a fair thing to say. The RSP then goes on to offer an RSP tech visit on site to install the NBN, which will be for 45 minutes, for 'valet' installation, free of charge.
The RSP then confirms the site address and LOCID.
The RSP does a lookup on the LOCID and reports that the line is in use by an NBN service, which is clearly not the case.
30 Apr 2019
RSP advises the original connection agreement for the NBN phone line services has expired (as the service has not been activated for 6 Months since submission date), and sends through new paperwork outlining the original terms, to be signed and returned (again).
7 May 2019
All paperwork signed and returned as requested…
14 May 2019
No response from RSP about an appointment date for the 'valet' on-site installation. Follow up by sending RSP an email.
21 May 2019
Still no response from RSP about an appointment date for the 'valet' on-site installation. Follow up by sending RSP an email.
27 May 2019
Email from RSP
Checking the status of the order, unfortunately the following information has been brought to light.

NBN Co. Identified a shortfall in the network. Essentially an error in the status of connectivity to NBN.

They performed what is known as a Service Class Roll Back, where the status of availability to connect to NBN at your site is taken away.

Instead of your original NBN disconnection date of 10th May 2019. They have now quantified that the existing telephone infrastructure will not be able to connect to the NBN until sometime in June 2020.

Due to the confirmed unavailability of NBN connection, we will unfortunately have to cancel the existing NBN agreement, and order, that we have set up, as we are unable to provide the service.
30 May 2019
Emailed RSP
This is confusing. There is a tagged cable (C10) in the basement with "Dental Clinic" on it, plugged into the NBN FTTB equipment (which I understand to be like a mini DSLAM, fed by fibre). How is there not enough capacity? Has this cable been reallocated to another client? Do we need to investigate down in the basement again?
31 Jul 2019
The business starts talking to a new RSP, who cold-called the business to strike up a deal. They claim NBN is available!
This would be too good to be true, right? We probably should've called a new RSP a long time ago, but didn't get around to it. I think things would've been very different had the ADSL become terminally unavailable.
We double-check this ourselves using the NBN's website and also with a third RSP. The business address still showing "June 2020" on the NBN website and the 3rd RSP also cannot provide an NBN service.
The new RSP provides a different LOCID and a screenshot of their search system which clearly shows the NBN is available. Just that some "jumptering is required", which starts to line up with the rest of the situation.
However, the address is wrong. It says Shop 1, instead of the correct address Shop 3. How can one digit make so much difference?
The good news is, the "Shop 1" address has the correct business name in the address, in brackets, even if it is the wrong shop. A search using NBN's availability tool confirms Shop 1 hasn't yet been connected to the NBN.
TIL: you can search in NBN's database by business name, as well as by address. Shop 1 is ready to connect to the NBN!
So let's do this thing!
2 Aug 2019
The new RSP sends a tech out to visit the business premises today. He is super determined to get the NBN working, after having a chat with the building manager and spending about 2 hours in and out of the MDF in the basement and trying every phone socket in the premises.
The conclusion?
Still no NBN.
The NBN will need to be "patched" by NBN themselves, which can take 6 weeks.
I suppose the business can wait 6 weeks, considering they've already waited 18 months, right?
20 Aug 2019
No news. Carry on…
23 Sep 2019
This is just to confirm that NBN are coming today to connect up to NBN.
They didn't turn up.
3 Oct 2019
Email to the building manager:
I just received confirmation that NBN would like to come by on Monday 14th of October from 8am to 12pm – would that be ok?
I'm not actually sure what happened this time as we didn't hear anything more beyond a request to access the MDF and confirmation that a "Safe Work Method Statement - FTTB Service Activation" has been completed and provided by the NBN contractor. But the ADSL didn't stop working and so fingers crossed.
14 Nov 2019
Suddenly, in the midst of a server meltdown (it was about 7 years old and started chewing through drives), the business is notified that their NBN is ready! This is great timing because the IT company who are installing the new server can set up the NBN at the same time. Brilliant.
And…
It works!
95-ish mbit/sec, as you would expect from a 100/40 service from the NBN. Great. Although wouldn't it be nicer if it was gigabit?
What a long journey over almost 18 months since the first "It's active!" message was received.
---
Like this post? Subscribe to my RSS Feed
or
Buy me a coffee
Comments
(0)