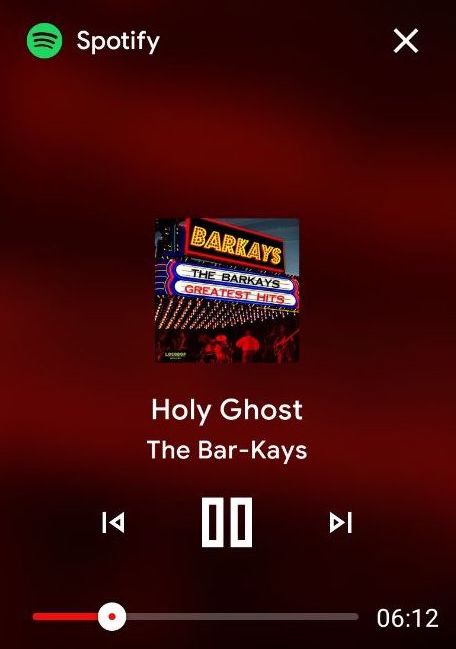 We've been running a bit of music at home (especially with all of this "work from home" activity lately) and as a consequence, often ask Spotify to play some music on the smart speaker.
Usually it plays what we ask for (or close enough anyway) but I still have trouble asking for "Yello" (instead I get that overplayed "Yellow" song by Coldplay). I can't help but feel the lack of a keyboard is a limiting factor.
Side note, since we're on the free version and we get a few ads, I'm currently amused by the ad which goes:
Thanks for listening to Spotify. No, really! You could've listened to the radio …
… At which exact moment I'm reminded the radio is only a voice command away, and so I often change to Double J because it's easy to forget the on-air talent you get from real live radio!
I'm still on the edge over whether we should buy a Spotify Premium subscription or not. I would prefer to keep the free one, listen to the occasional ad, and invest the money I would've spent on the subscription on buying some used vinyl. I just find a subscription not quite the same as having 12 inches of amazing album artwork sitting in front of you.
So when I hear something I like, I jump onto my phone and take a screenshot of the Google Home app, so that I can come back to it later. This is the list of screenshots I've collected throughout 2020 so far.
The List
I'm going to try pasting in a nice set of Youtube embeds, for your convenience. Let's hope they go OK.
Some of these tracks are young, some are old. Almost all of them have a real groove that you can't help but move to.
I like this list.
Lettuce - Phyllis
The Bar-Kays - Holy Ghost
J.J. Cale - Ride Me High
Sheena Ringo - Tokyo
Hotei - Battle Without Honor or Humanity
Kiki Gyan - Disco Dancer
Fela Kuti - 2000 Blacks Got to Be Free
The Souljazz Orchestra - Dog Eat Dog
Idris Muhammad - Could Heaven Ever Be Like This
Hugh Masekela - Don't Go Lose It Baby
Sharon Jones & The Dap-Kings - How Long Do I Have to Wait For You
Har Mar Superstar - Prisoner
Big Boss Man - Sea Groove
The wrap up
Minor gripe, while I've got your attention: the UX on the Google Home notification widget thing is terrible, clicking on different blank areas of the tile either causes it to resize or open the actual app. I didn't even know this was possible. Can we please bring back real buttons that look like buttons? Oh.
I was going to share this list with a friend over email, but if I'm going to be copying and pasting links, I might as well do that here rather than losing the list into the email void.
Anyways, back to the groove now. Maybe I'll get these into a mixtape? Recording YouTube onto a Minidisc feels so dirty.
---
Like this post? Subscribe to my RSS Feed
or
Buy me a coffee
Comments
(0)