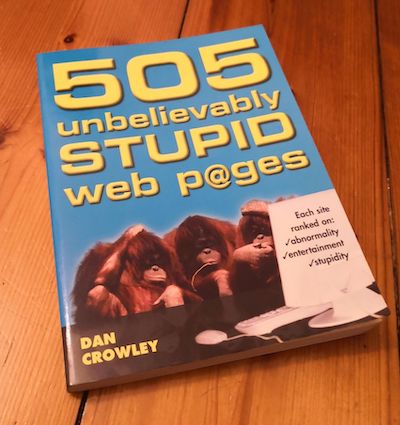 I found this book (505 Unbelievably Stupid Web P@ges) on my bookshelf from 2003 (it was a gift at the time) and I really doubt many of the sites from back then are still around today. Maybe they are. And who would write a book about websites and print it anyway? Madness that could only come from the dotcom era.
So I have this bit of a routine thing going on where I visit a core set of sites each day. It's a bit like checking in, just to see what's new and what's progressed since I last opened Trumpet Winsock and connected to the information super highway.
After doing the rounds, I'll disconnect the modem and wander off and do something else.
Out of all of the sites I visit, this is the one which is updated the most. It's also a really good collection of (generally) positive news and so doesn't make me all that depressed when I read it. Sometimes there is the odd piece which is really bad, but it's rare.
The comments are actually OK too, at least most of the time. Not too many keyboard warriors. I have (in the past) got a bit of traffic from HN, so I do owe a little bit for that.
I'm pretty interested in the NBN. It's really pushed Australia back compared to other similarly-positioned countries. But I also love reading about other people's experiences particularly if there are changes afoot. The mood is sombre at best and the mods certainly have their work cut out for themselves on what is often described as "Whingepool".
Maybe the pool is full of the tears of a thousand techno voters who are distraught at what has become of our national infrastructure.
I usually browse the ABC homepage for some interesting content, check what the recommendations engine is returning great content (which I had a hand in creating and also to make sure it's still working!), check the latest stats on the Coronavirus for cases in NSW and then call it a day.
I am more of a fan of 'positive' news because news in general is so very depressing, so there's the odd article that screams out to me.
I'm on the hunt for an 'affordable' electric car. I know this doesn't exist in Australia, but I'm looking anyway. COVID has made things pretty interesting with a lot of cars hanging around on Carsales for longer than the pandemic has been going on for… and then some cars sell within a couple of days. Price seems to be the key factor here.
I'm on the hunt for a few things to collect at the moment, mostly centering around 90's video games (including big box PC games) or a well-priced Amiga 1200. I'll also occasionally balk at the prices on specific things like Juno 106 analog synths or specific game, just to see how much people are asking these days. Turns out prices are through the roof for intruiging retro collectables, so there's that.
When all else fails and I run out of things to read, I check out Twitter. It's a firehose of content and such a Christmas stocking filler. I've pretty much said I don't like any ad I've seeen to the point where I don't see ads anymore. Good.
---
Sticking to sites on the old web makes it pretty easy to jump from one to the next once I'm finished reading. The moves by Google to hide the location bar are very concerning.
I also like to check the analytics on this site and that site, ever since they were launched. Which is admittantly a long time ago now! Actually, it's even more fun now that I've done a couple of super simple SEO tweaks which have had a reasonable impact.
There are more sites, but not in common circulation. I used to browse other forums as well, such as Overclockers Australia (these days I only look on a Friday when they post Misc Pics) and OzRenaultSport (but I haven't been there for ages now and seems to be producing some sort of theme error as I write this).
What is your routine?
---
Like this post? Subscribe to my RSS Feed
or
Buy me a coffee
Comments
(0)