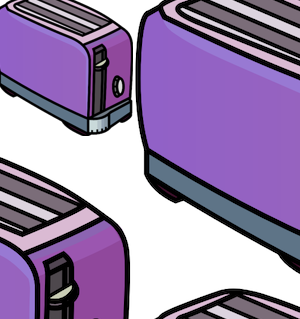 For some background, I run a small web design/hosting/what-have-you business on the side of my main career. I've written about this before here. Interestingly, most of my clients are either dentists or dental specialists.
I thought it's time to think back over the past 12 months - as much as they've been pretty unusual - and reflect on what's next for the little old purple toaster. I've continued to maintain the serverless CMS "Koi CMS" that I created, since it does make maintaining websites so very nice (I'm using it right now, of course!). And with all of that time invested, keeping it going doesn't require a huge amount of time.
I'm often thinking about scaling the business. Not because I really want it to ramp up and take over my main career, but it's one of three distinct options. The other two are to keep it ticking along at the same pace or wrap it up. Both of which don't sound exciting!
A lot of my time is spent on pretty mundane activities, some of which could be automated and some could be outsourced, to give me room to focus more on higher value activities like getting new clients or building out new fully sick features.
I dread invoice time, as it's all manual at the moment, but would love a bit of time to build some automation between my accounting system and my CMS. Invoices could definitely be auto-generated for things like webste & email hosting and domain registration renewals. The invoices could also be automatically PDF'ed and uploaded into the CMS, ready for customers to view in their 'billing' page. The invoices are there today - but only because I've been manually uploading them each time!
Another area to scale is the creation of the websites. It's a pretty manual affair - even when using a pre-built theme that I've already converted from either plain HTML or Wordpress into the right set of template files that Hugo loves. I have a distinct way of doing this, which gives me a good structure for each of the themes I've converted, but if I were to pay someone else to do this, then it would be interesting to see how they would structure the conversion process.
What inspired me (in part) to write this was an email from a web design company offering all manners of "PHP" and "Salesforce" development skills… which is quite amusing being a web design agency already. I guess they're not really checking which companies they email. Perhaps they would offer the same level of service to big firms? Probably.
Anyways, it's not the first of these emails I've got and it certainly won't be the last. But it got me thinking, I've never seen anyone list out Hugo or Jekyll or any of the other static site generators as common skills on offer. I guess they really haven't hit critical mass like Wordpress yet. Maybe one day.
So there's an opportunity: engage a subcontractor to build out a set of themes for me, either on demand (when a client selects a new template I haven't got in my library yet) or simply to build up the set of themes which a client can choose from. Typically, they don't want anthing hugely different from one-another, but they do often want something a little unique. The job is certainly easier if an existing theme is chosen and the licence cost per use of the theme is still very reasonable, especially for the HTML themes.
The last area which is still pretty time-consuming is converting and migrating existing sites, updating content and images to suit new client requirements and then publishing the site - often with a bunch of manual DNS cut-over tasks. I would say a tool to suck out the content from an existing site and create a series of markdown pages would be useful (I've used one in the past) but it's never perfect and almost always requires hours of work tidying up and updating to meet needs.
An option from left-field would be to open the ability to click & create websites without any manual effort - in a kind of self-service mode - directly competing with Wix and Wordpress.com (and probably countless others). That sounds like a lot of effort right now, so perhaps keep that one in the back pocket for the time being.
As it stands, 2020 was a fairly quiet year for websites, with most businesses really focusing on quite other very important things and not worrying too much about their website. No surprises there. But perhaps 2021 is the year of the website and suddenly every dentist in the country wants a new website?
---
Like this post? Subscribe to my RSS Feed
or
Buy me a coffee
Comments
(0)