This page is now an archive as I turned off the mic for the last time during February 2018 - that's 7 years of on-air Fusion Jazz madness.
Bam..!
…and with a burst of brilliant light, a dust-covered futuristic figure emerges. He is un-faded by the amazing spectrum unfolding around him…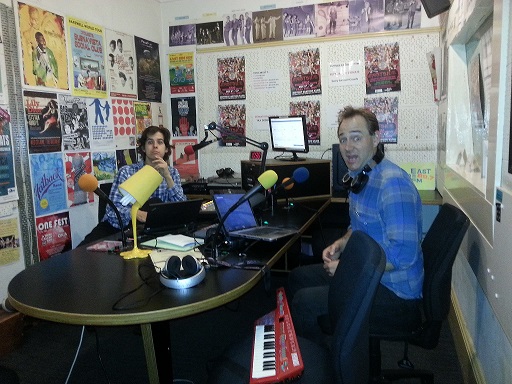 (That's me on the left!)
Nick, the undisputed master of the fusion trawling game knows what you want to hear on a Monday night. He's chosen a crimson a skinny tie, grey baggy suit and some of the most forgotten and hard to find tracks of the last 40+ Earth years. Blessed an insatiably whet appetite for electric pianos made by the Rhodes company and ice cream made by "that" company (no, the other one), Nick (AKA Space Boy) constantly delivers where so many other life forms have failed. Good consistency is not just reserved for low fat yoghurt with Nick, it is liberally spread across all genres and styles paying special attention a frequently overlooked goldmine of Fusion tunes. Fusion Jazz? – Check. Boosters? – Check. Chick? – Check. Corea? – Check. Synthesiser racks that are 3, and sometimes 4 boards deep? – We have go for launch.
Whichever decade you may be in, the Fusion Delusion is worthy of your ears on Monday nights at 9:30pm!
Tune in online at Eastside Radio.
The Fusion Delusion is a radio programme dedicated to playing the best Fusion Jazz from all around the world. We can be heard on Eastside 89.7fm which is run out of Paddington, Sydney, Australia.
For more information and to become a supporter of Eastside fm, check out Eastside Radio.
The Fusion Delusion started in February 2011 and has been on the air ever since. Presented by Nick McHardy Monday evenings from 9:30pm-11:00pm.